oPeRaTe in OAXACA
The oPeRaTiNg tHeAtRe and ChequePoint are starting on the 10th of November a weekly cinema program at Damrak 16: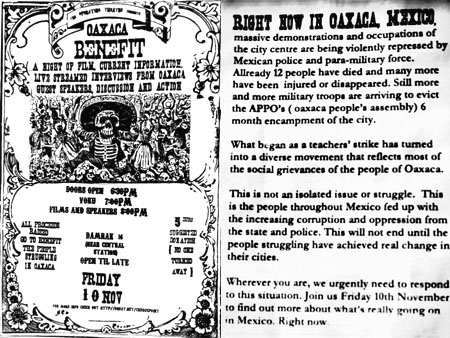 LISTEN TO THE LIVE INTERVIEW
the public in the ChequePoint had the possibility to ask questions via stream to an activist in Oaxaca: play with videolan !
……………………………..
RIGHT NOW IN OAXACA,
MEXICO.
Massive demonstrations and occupations of the city centre are being violently repressed by Mexican police and para-military force.
Allready 12 people have been murdered and many more have been injured or disappeared.
Still more and more military troops are arriving to evict the APPO's
(oaxaca people's assembly) 6 month encampment of the city.
What began as a teachers strike has turned into a diverse movement that reflects most of the social grievances of the people of Oaxaca.
This is not an isolated issue or struggle. This is the people throughout Mexico fed up with the increasing corruption and oppression from the state
and police. This will not end until the people struggling have achieved real change in their cities.Wherever you are, we urgently need to respond to this situation.
Join the Operating Theatre on Friday 10th November to find out more about what's really going on in Mexico.
Right now.
…………………………………….
OAXACA BENEFIT INFO NIGHT
FRIDAY 10TH NOVEMBER
CHEQUEPOINT
DAMRAK 16 (NEAR CENTRAL STATION)
A NIGHT OF FILM, CURRENT INFORMATION, LIVE STREAMS AND INTERVIEWS FROM OAXACA
GUEST SPEAKERS, LIVE MUSIC, DISCUSSION AND ACTION.
*OPEN 18:30
*VOKU 19:00
*FILMS AND SPEAKERS 20:00
*OPEN TILL LATE
5 EURO SUGGESTED DONATION (NO ONE TURNED AWAY)
ALL PROCEEDS RAISED WILL GO TO BENEFIT THE PEOPLE STRUGGLING IN OAXACA.
………………………………
OP DIT MOMENT IN OAXACA
Massale demonstraties en bezettingen van het centrum worden geweldadig
onderdrukt door de Mexicaanse politie en paramilitaire.
Al 12 mensen zijn gedood en moge veel meer gewond geraakt of verdwenen. Steeds meer en meer militaire eenheden zijn gearriveerd om het ontruimen van de APPO'S te bewerkstelligen.
Wat is begonnen als een leraren staking is getransformeerd tot een diverse beweging die de meeste onrechte aangedaan aan Oaxaca mensen reflecteerd.
Dit is niet een geisoleerd punt in de strijd. Dit zijn de mensen in heel mexico die het zat zijn dat zij worden onderdrukt door de staat en de politie en het groter worden van de corruptie, dit zal niet stoppen tot de strijd van de mensen een grote verandering heeft veroorzaakt in hun steden.
Waar je ook bent, we moeten dringend iets doen aan deze situatie.
Kom met ons samen op vrijdag 10 November bij Damrak 16 om uit te vinden wat er echt gebeurt in Mexico nu!